The STEP Scholars Program
Strengthening Talents & Exploring Pathways Program
---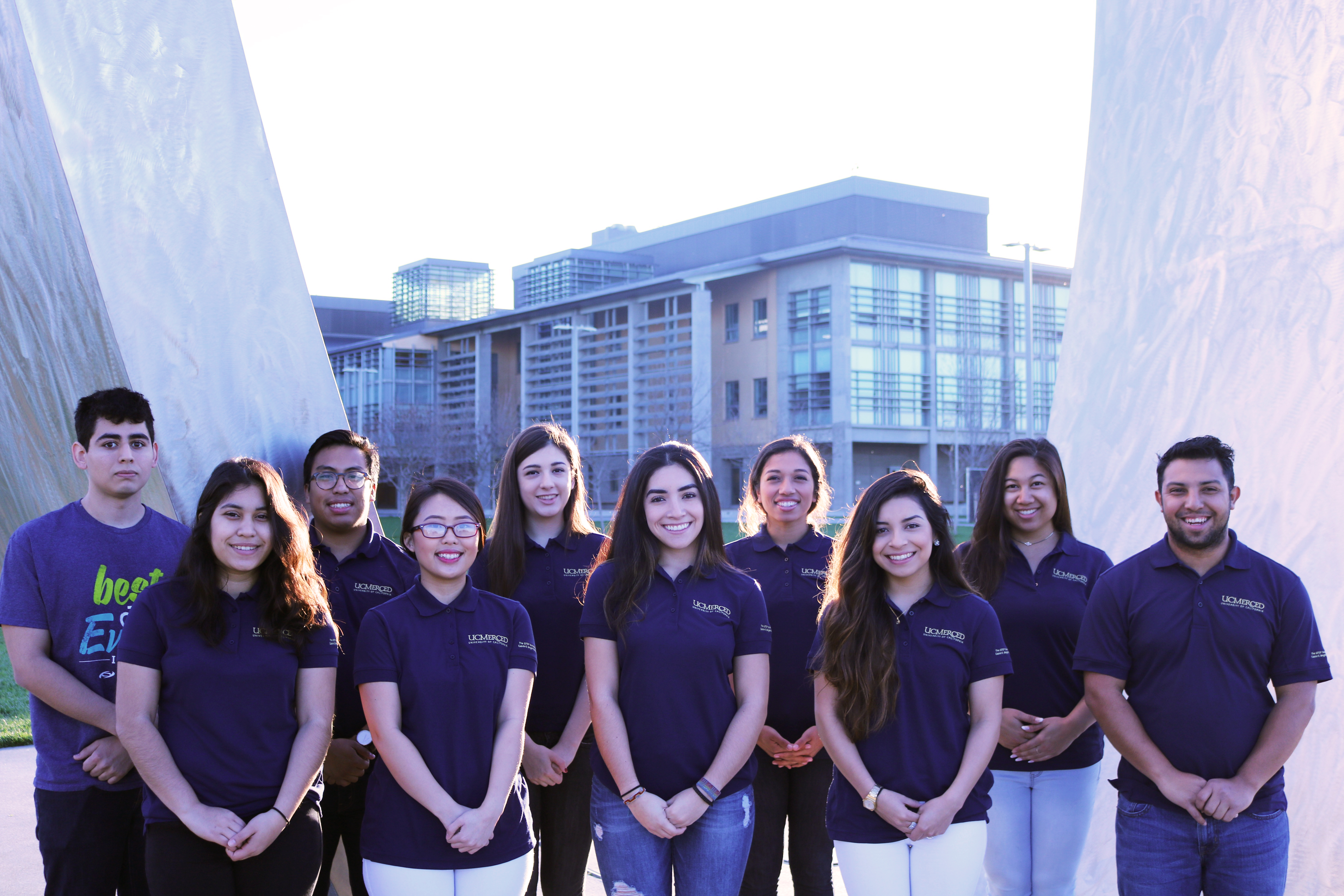 What is STEP?
Strengthening Talents and Exploring Pathways (STEP) is a new and exciting program designed for students to transition into their academic and career interests. As a STEP Scholar, students receive a range of special privileges and professional connections on and off campus. STEP aims to empower students to take ownership of their education and professional advancement. STEP is open to all UC Merced students who are first generation, from low-income families, or have a documented disability.  If you are interested in applying to STEP, please submit an Intake Form. 
STEP is a TRiO funded Student Support Services (SSS) Program. 
Mission Statement
The STEP Scholars Program provides student-centered support and opportunities for students to engage in meaningful explorations and selection of academic majors and career fields. STEP aims to help students attain better understanding and exposure to opportunities that will enrich their learning and academic success here at UC Merced. It is our goal to strengthen our students' self-efficacy and resilience during their journey towards graduation. 
The STEP Scholars Program will revolve around three activities, which are directly tied to the Program Objectives
Student Retention: Academic Preparation and Support
Good Academic Standing: Co-curricular Support for Building Confidence and Exploration of talents, in addition to Financial Aid Awareness
Shortened Time To Graduation: Career and Graduate School Preparation, Planning and Visioning
Benefits of Joining STEP:
Indivualized mentorship
Student Success Internship opportunities
Skills building workshops
Career professionals interaction opportunities
Field trip excursions to pre-law, pre-med conventions, educational and cultural arts events statewide!

Spring Semester 2017 Requirements
Pick up your Passports from a Fellow in the BSC (KL222) office! In order to maintain enrollment in STEP, ALL Scholars must complete the following: 
4 STEP Program Events
3 one-on-one meeting with your Fellow
2 one-on-one meeting with Program Coordinator (GX)
1 Special Requirement based on your class standing
Freshmen: Meet with Primary Advisor/Peer Academic Advisor from your School (SSHA, Engineering, NS)
Sophomore: Complete Jumpstart Meeting with your Primary Advisor
Junior: CCPA Visit - Complete a resume or elevator pitch
Senior: CCPA Visit - Take the StrengthsFinder Career Assessment
Seniors note: The online assessments require a username & password. To receive the username and password, schedule an initial consultation by calling CCPA (Center for Career & Professional Advancement) at 209.228.7272 or by visiting the center in SSB 230.
Your Passport (which contain your requirements) are due April 17th. You will receive a cerficate at our Recognition Ceremony for your completion of requirements. 
---
SEMESTER EVENTS
STEP STUDY JAMS!
EVERY TUESDAY - STUDY JAMS
3PM-6PM | COB 120
EVERY WEDNESDAY - STUDY JAMS
5-8PM (
TUTORING FOR MATH 5, 12/22, 11/21 AND CHEM 8)
Financial Aid Workshop A: Scholarships
Feb. 6th | KL 208 | 3PM - 4PM
Field Trip to Stanford University Minority Medical Alliance Pre-Health Conference
Feb 11 (REGISTRATION IS NOW CLOSED)
Information Session: Tuesday, 2/7 | COB 264 | 3pm - 4pm
Student Optimum Success (SOS) Series
Feb 13 - Mar 20 (Every Monday) 
3PM - 4PM | SSB 250
Field Trip to UC Berkeley Law School Admission Conference
February 25 | 8:30AM - 5:00PM
Location: UC Berkeley campus
This conference will provide a comprehensive overview of the law school application pricess. Currently UC Berkeley law students and administrators will provide advice on how to best navigate the law school application process. Law school students are also available to review your personal statement.
STEP Social
Feb. 28 | 5PM-6:30PM | California Room
Come out for fun, games and prizes! 
Financial Aid Workshop B: Income Taxes 101
March 22 | 4PM - 5PM | COB2 267 
Currently working or will be working in the near future? Learn the basics of income taxes filing and resources that are available! 
GRE / MCAT Challenge by KAPLAN!
April 5 | COB2 110
Thinking about graduate school or medical school? Prepare yourself for graduate school entry tests! KAPLAN will be providing a cohesive session on the GRE and MCAT (1 hour long each). 
Learn how the GRE / MCAT Exam is designed and scored

Take a tour of the application timeline

Learn how you can prepare for the exam

Learn about Kaplan's resources
GRE Challenge 3PM – 4PM
MCAT Challenge 4:30PM – 5:30PM
Professional Roundtable 
April 13 | Crescent Arch | 2:30PM-3:30PM
Meet with professionals from various career fields! 
Recognition Ceremony
April 20 | Bobcat Lair | 
6PM - 7PM
A special award ceremony to recognize Scholars who complete their requirements (passports), and to recognize our Student Success Interns! Please turn in your passports to your Fellow by April 17th. 
CA Cognitive Science Conference, UC Berkeley
April 29th | UC Berkeley
Scholars have the opportunity to attend this conference to interface and learn from hundreds of students, researchers, and members of the general public around the world passionate about the interdisciplinary field of Cognitive Science. This year's theme is Mistakes. The conference will explore this exciting topic through the lenses of psychology, neuroscience, linguistics, anthropology, computer science, philosophy, and more. This field trip is in collaboration with UC Merced's Cogntiive Science Student Association! 
Register here: 
https://goo.gl/forms/c6hPA4YUOtDIPtM43
online assessments require a username & password. To receive the username & password, schedule an initial consultation by calling 
209.228.7272 or by visiting the center in Student Services Building 230.
---
Find out more about the STEP Program
---
Contact: Ger Xiong, Program Coordinator
Calvin E. Bright Success Center | University of California, Merced
Schedule a meeting with me here: calendly.com/gxiong