Peer Academic Advising
Peer Academic Advising
---
Office Hours (Walk-in Only)
Undeclared first-year students should meet with a PAA, before seeing their Academic Advisor.

Tuolumne Hall, 1st floor Study Lounge
---
Monday, Wednesday, Friday

10:00 a.m. - 4:00 p.m.

 

Thursday

1 p.m. - 4 p.m.

 
No Peer Advising during Spring Break, March 27-31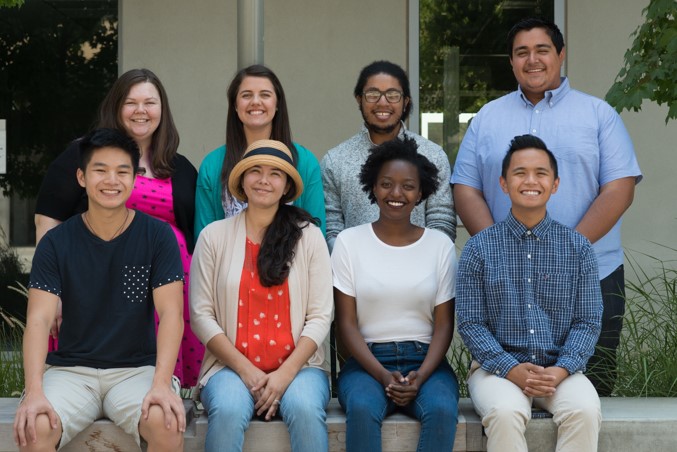 (Top row: Stacie Jenkins, Yaqeline Castro, Cody Castro, Joseph Anaya.
Bottom row: Codey Chuc, Lina Kaji, Mercy Maina, Aspen Fernando.)
Our Mission
The mission of the Peer Academic Advising program is to help raise awareness about academic requirements, learning support services, campus resources, and important dates and deadlines. The program also provides pre-professional leadership development and advising experience to respected students. The Peer Academic Advisors work closely with professional staff across campus to ensure that students have a successful and fulfilling experience while attending UC Merced.
Peer academic advisors are student or graduate student that can help ease the hassle of getting academic advising. Thus, peer academic advisors are able to give more down-to-earth, student-related solutions and feedback on things that you might have questions about in university-level academics or basic college life.
---
Peer Advisor Bios
Aspen Fernando

Senior

Major: Biological Sciences - Human Bio

Hometown: Rocklin, CA

 

 

Codey Chuc

Junior

Major: Computer Science & Engineering

Hometown: Southern CA

 

Joseph Anaya

Junior

Major: Political Science

Hometown: Merced, CA

Yaqeline "Jackie" Castro

Sophomore

Major: Biological Sciences

Hometown: Modesto, CA